Featured Article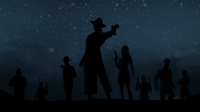 The Crazy Bunch is a group of Vacuo-based outlaws and mercenaries who have evaded apprehension for years. They were recruited by Viorel Braith to dispose of Team RAIN and their allies.
Read more or see the archive.
What is RAIN?
Set in the world of Rooster Teeth's animated series RWBY, RAIN follows the eponymous team comprised of Robin Lincoln, Akane Amaranth, Irving Hawthorne and Nyssa Noirette in a comic intended to run parallel to that of the canon storyline. It is set in the fictional world of Remnant, where young people train to become warriors (called "Huntsmen" and "Huntresses") to protect their world from monsters called Grimm.
Community content is available under
CC-BY-SA
unless otherwise noted.